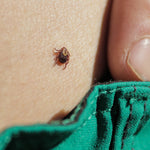 ULTIMATE TICK TRIVIA! 10 weird, little-known facts about ticks...
Nobody wants to brush up against a tick, but are you ready to "brush up" on your tick trivia? Learn 10 mind-blowing, weird, interesting, fun (or not-so-fun?) facts about these 8-legged miniature vampires we call ticks: 
Ticks will not die in cold (freezing) conditions, but they will keel over from exposure to hot, arid conditions, which is why they retreat to shady, cool places in the summer months.  From this gem of knowledge, comes a practical tip: If you've been outside in "tick territory" and you want to kill any ticks that could be hiding out on your clothing, simply throw your clothes into the dryer for 10 minutes on HIGH heat and voila - your clothes will be worry and tick-free. (Note, this does not mean that you should skip a thorough tick check on your body and hair. If you don't have a partner to help you, use a full-length mirror.)
Ticks are not insects. Yes, it's strange but true… Ticks are actually classified as "arachnids" and are cousins with spiders, scorpions and mites. If you examine a tick closely, you'll notice four pairs of legs (8 total) and a lack of antennae. "Insects" technically, by definition, have 3 sets of legs (6 total) and usually 1-2 sets of wings.  So, since ticks have 8 legs, and no wings (thank God!) we know that ticks are arachnids, not insects.
Ticks must have a blood meal in order to reproduce. (Disgusting, but true! They truly are miniature vampires!) After feeding on a host's blood, which is high in protein, the adult female lays eggs -- from 1,500 to as many as 5,000. Those eggs hatch several months later, and the life cycle starts again: larva, nymph, adult, eggs.
According to our research, the best essential oils to repel ticks are: cedarwood oil, peppermint oil, rosemary oil, thyme oil, lemongrass oil and geranium oil. SPOILER ALERT: We included all these oils (and more) in our extra strength TICK BAN tick repellent by YAYA Organics and it is proven to be as effective as 100% DEET for repelling those nefarious little arachnids.
Depending on where they are in their life cycle, ticks can appear smaller than a poppy seed, or the period at the end of a sentence. That's why it's critical to wear an effective tick repellent like our extra strength, all-natural TICK BAN during tick season, and always perform ticks checks after being outside, especially grassy areas or the woods.
A female tick is able to consume 100 times more food than a male. After such a rich meal, the female can increase in size by 150 times. That's why some ticks look like inflated balloons! (GROSS!) They usually change color as they feed, as well, turning a pale grey color.
Ticks are like the James Bond of bugs.  Most people are not aware they are being bitten because they can't feel it. Ticks are highly sophisticated parasites that release an anesthetic fluid upon biting you, to effectively mask the sensation of the bite, allowing them to burrow into your skin and feed for up to a couple of days. 
Unlike mosquitos, which bite and run (or fly, rather!) in a matter of seconds or short minutes, ticks are committed to a longer feeding. The length of time a tick stays attached depends on the tick species, tick life stage and host response to the bite. Generally if undisturbed, larvae remain attached and feeding for about 3 days, nymphs for 3-4 days, and adult females for 7-10 days.  Keep up with tick checks (especially if you've been outside!) to make sure you don't have a James Bond blood-sucker attached to you unknowingly. 
Ticks typically wait for a host on the tips of grasses, leaf litter, and shrubs, in a position known as "questing". They hold the first pair of legs upwards and outstretched, waiting to climb on to a host as it passes by. Ticks don't fall down from trees, jump or fly!  Also an interesting fact is that ticks have olfactory sensors on the tips of their legs which help them "smell" a host coming by.  So, next time you get close to a questing tick, notice it eagerly respond to your smell by putting its front legs in that questing position. 
World-wide there are over 850 of ticks.  There are about 30 major tick-born diseases.  Make sure you and your family stay protected with TICK BAN, our all-natural and proven effective tick repellent made with pure essential oils.                      
 People are most likely to encounter nymphs, which usually go unseen and unnoticed because of their tiny size. Nymphs are most active in the spring and early summer (May-July). In forests, they are mostly found in the leaf litter and on low lying vegetation. Nymphs molt into adult ticks which are most active in the fall (October-November). This general life cycle pattern varies among regions in the U.S. due to differences in environmental conditions. Ticks can be active on winter days when the ground temperatures are above freezing. Keep your bottle of all-natural TICK BAN tick repellent by the front door, and spray all year round to keep ticks at bay!
Not a fan of ticks and looking for an all-natural yet effective solution? Try YAYA Organics TICK BAN, an extra strength formula that is proven to repel ticks naturally and effectively.  TICK BAN is proven to be as effective as 100% DEET in 3rd party lab-testing.